Limited edition Artwork Tarots No 19.
Taro by Ithell Colquhoun

---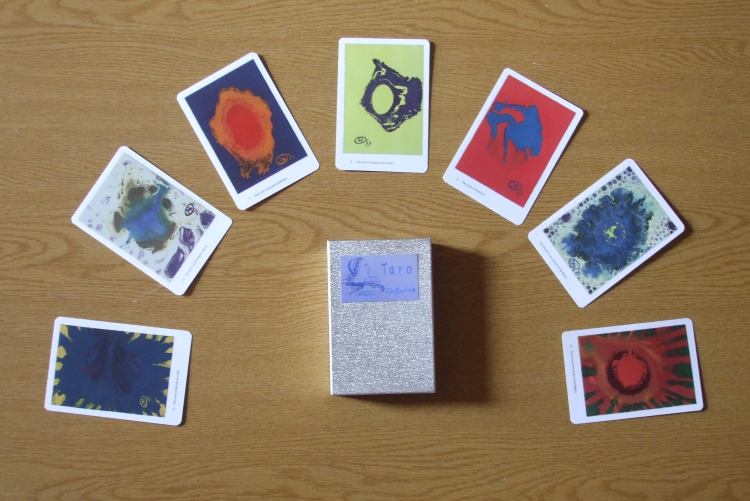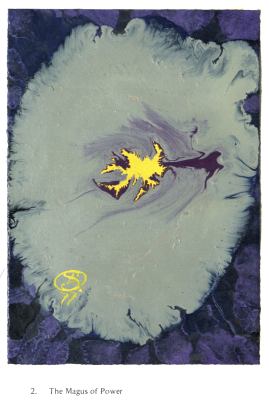 78 card full deck of Majors and Minors. Card size 4.7 by 3.1 inches (118 by 80mm). Numbered and signed by Adam McLean.
This amazing esoteric and art tarot was created by the occultist writer and surrealist artist, Ithell Colquhoun (1906 - 1988), in 1977 when she was 71 years old and about ten years before she died. This was recently discovered by Richard Shillitoe who worked with me in making these strange abstract designs available in print for the first time. They were exhibited briefly in 1977. She was a painter and writer and along with Eileen Agar and Leonora Carrington, was one of the best-known English women surrealists. A friend of André Breton, she was also associated with Aleister Crowley. Her Taro is an example of a kind of abstract surrealism. For each card, she poured enamel paint onto a horizontal sheet of paper, allowing it to flow and mix. Sometimes she swirled it about with the pointed handle of a brush and sometimes she added dots or dabs of paint to emphasise certain features. It was important to her that although she determined which colours to initially apply based on a structured colouring scheme, many of the final forms and colour mixtures were influenced by forces that were not under her conscious control.
She was deeply studied in the Golden Dawn tradition of magic, and wrote a well known book on the subject The Sword of Wisdom, 1975 as well as a strange allegorical novel or gothic fantasy The Goose of Hermogenes, 1971, and other works on Cornwall and Ireland.

Sorry. The edition is now sold out.

USA and Worldwide
Pay in US Dollars through
your Credit Card or Paypal system
UK and Europe
Pay in UK Pounds through
your Credit Card or Paypal system
$160 + $12 postage
£100 + £3 postage