Emblem 12
The Stone that Saturn vomited up affer having devoured it in place of his son Jupiter, has been placed on the Helicon as a souvenir for the mortals.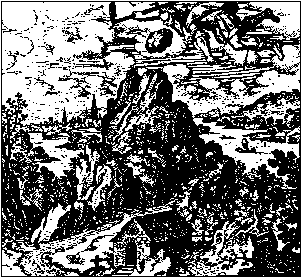 Epigram 12
You want to know the reason why so many poets sing of the Helicon,
And say that everybody must try to reach the top of it?
At its summit a Stone has been placed as a souvenir,
The Stone that was devoured and spit our by Jupiter's father in his stead.
If you take these words at their face value, you are out of your senses,
For this Stone of Saturn is Chemical.