Limited edition Artwork Tarots No 3.
Alchemical Wedding Tarot

---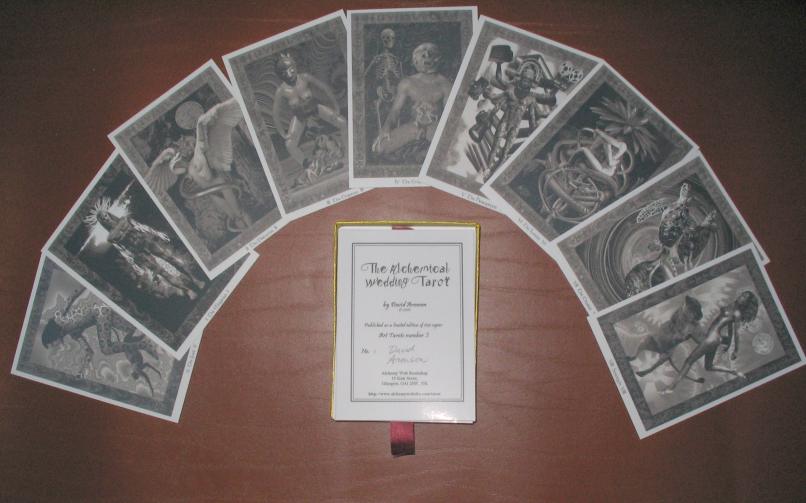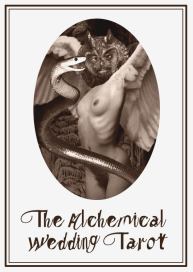 This is a very unusual and powerful tarot deck. The imagery is strong and disturbing. It is not a deck that one could readily see being used for readings. Instead, the artist David Aronson, uses the tarot form to explore images that are both disturbing and at the same time so beautifully crafted that they engage us and perhaps this is the nature of the alchemical wedding which he is inviting us to join. This has been created using computer graphic collage of astounding quality. Aronson is certainly a master of this medium. The bodies of many of the figures in this tarot are rendered or textured in a wonderful way with repetitive mathematical patterns, while the backgrounds often incorporate fractal imagery from Mandelbrot sets. It is in a monotone sepia, and on first glance one could be drawn to describe this as a 'Gothic' deck, however, its imagery, though strong and dark, does not draw especially from death or horror images, but incorporates sexuality, magical symbolism, and alchemical emblematic forms. This is a deck for serious collectors of tarot, and, I suspect, not for people wanting a deck to use for readings.
22 Major arcana deck. Card size 5 by 3.6 inches (129 by 91mm). Signed and numbered by the artist.

Sorry. The edition is fully sold.