Limited edition Artwork Tarots No 12.
The Ascension Tarot

---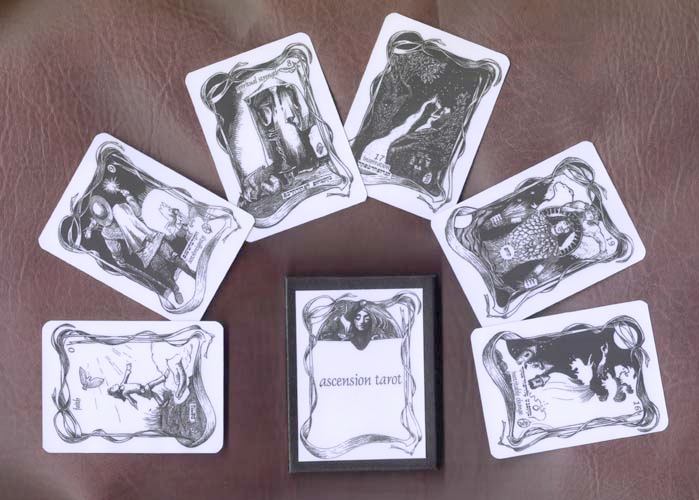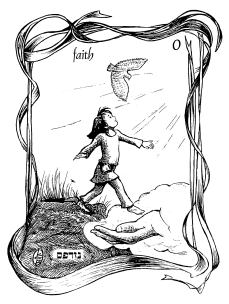 Elizabeth Berg's totally positive view of the spiritual evolution of the human soul is pictured through her strong and detailed pen drawings for her Ascension Tarot created in 1999. She presents a journey of the soul from the card of Faith, where the fool is seen following the dove of the spirit, through to the final card of Exalted Consciousness, where the soul itself becomes the dove of peace ascending into the divine light. The dynamics of her imagery are entirely positive and life-affirming, and each arcanum seems to have a different source of light, which for Berg is the true image of spirit. The Hebrew titles on the cards is not of abstract kabbalistic inspiration, but a more universal exploration of ideas and imagery growing out of the spiritual inheritance that Judaism has left to world culture. This is a well conceived and thoughtful deck that will repay contemplation and study. Each image is presented within an art nouveau border, and though the cards are renamed the symbolism adheres to and closely mirrors the standard tarot archetypes.
22 Major arcana deck. Card size 3.6 by 2.6 inches (95 by 62mm). Numbered and signed by the artist.

Sorry, this item is temporarily unavailable.


Pay in US Dollars through
your Credit Card or Paypal system
Pay in UK Pounds through
your Credit Card or Paypal system
$67 + $8 postage
£40 + £2 postage
---