Limited edition Artwork Tarots No 6.
Corneal Edema Tarot

---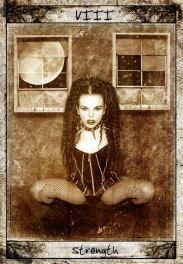 The Corneal Edema Tarot was created by the American artist John R. Dybowski. It is a goth deck celebrating this lifestyle. John R. Dybowski has taken a series of posed photographs and graphically modified these to embed them within a textured space. He has produced an extremely accomplished and wonderfully evocative deck that reflects the goth lifestyle in tarot archetypes. The name 'corneal edema' (or oedema) means an inflammation of the corneal part of the eye - the main symptom of which is blurring of vision and sometimes pain on looking at an object. So entirely in empathy with a goth view of the world this Corneal Edema Tarot is supposedly giving us a painful and distorted view.
22 Major arcana deck. Card size 5.1 by 3.5 inches (130 by 90mm). Signed and numbered by the artist.

Sorry this has now sold out.


---