HTML Scrolling Menu Css3Menu.com
Hermetic Studies series
No. 4. The Mutus Liber Coloured
Edited with reproductions of paintings by Adam McLean.
---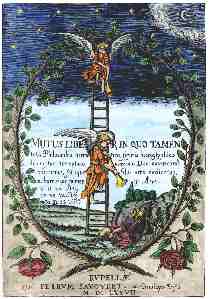 This is a large format edition of the Mutus Liber using the engravings from the first edition 1677 of La Rochelle. It is not a reproduction of any other manuscript. The colouring scheme is based entirely McLean's own, but he drew on his extensive study of coloured alchemical manuscripts. There is a short introduction, but this book really consists only of the full page coloured pictures. It complements the Magnum Opus volume A commentary on the Mutus Liber also by Adam McLean.

32 pages. 15 coloured illustrations. Large format A4 hardback.
300 copies only signed and numbered.

6 copies now available

USA and Worldwide
Pay in US Dollars through
your Credit Card or Paypal system
UK and Europe
Pay in UK Pounds through
your Credit Card or Paypal system
$120 + $30 postage
£75 + £5 postage

I am sorry this large format book is rather expensive. It has 15 full page colour illustrations and being a 12 by 8.5 inch sized book is quite heavy and the postage costs are consequently very high.