HTML Scrolling Menu Css3Menu.com
Advanced Study Course on alchemical sequences
by Adam McLean Now available as a downloadable pdf file.

---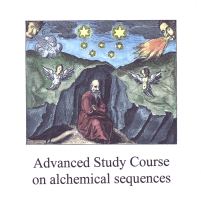 This course is suited to those who have taken and completed the Foundation course. This advanced course builds upon the material and approach presented there.

Originally this advanced course of 16 lessons lasted for one year with lessons to be studied on a three week schedule. Each lesson focuses on a different alchemical sequence which will be explored in considerable depth. We will begin with simpler sequences and gradually develop our understanding further throughout the course so we can eventually look at rather challenging items. With the lessons you are provided with a supplementary resource of graphic material in the form of a Windows exe file - Note this is not accessible on the various Apple or Android operating systems.
The course analyses and provides a reading of the Donum Dei, the Cabala mineralis, Splendor Solis, the Crowning of Nature, the Mylius series, the Twelve keys of Valentine amongst others.


Download
USA and Worldwide
Pay in US Dollars through
your Credit Card or Paypal system
UK
Pay in UK Pounds through
your Credit Card or Paypal system
Europe
Pay in Euros through
your Credit Card or Paypal system
$25

£20

€24

If you have any questions before you purchase this course please email Adam McLean adam@alchemywebsite.com
---
Please note these lessons are copyright © Adam McLean, and no part may be reproduced or distributed in any form (including the Internet) without the permission of Adam McLean.

---