HTML Scrolling Menu Css3Menu.com
Magnum Opus Hermetic Sourceworks Series
This series of limited edition hand-bound books by Adam McLean were initially produced between 1979 and 1986. They were never sold through book dealers, but only by direct mail order. Consequently, these books became collectors items, often fetching high prices on the second-hand market. Only a few copies remain of some of the older titles in this series and a number are now entirely sold out. Since 1997 thirty new titles have been issued with more in preparation.


No. 26. The Hermaphrodite Child of the Sun and Moon
Translated by Mike Brenner, with an Introduction and Commentary by Adam McLean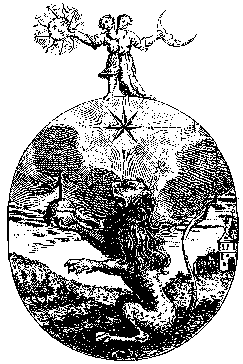 The Hermaphroditische Sonn- und Monds-Kind was printed at Mainz in 1752. Although the text is relatively obscure and impenetrable, the power of the series of twelve engravings attracted people to this work, and the fascination of these images still remains with us today. The work was reprinted twenty seven years later in the well known German alchemical compendium Hermetisches A.B.C.
The work is divided into twelve sections each headed by an emblematic figure. The text of these sections begins with an 'explanation of the figure', followed by a short verse, a 'paragraph' with its 'explanation', and lastly a 'canon' or short verse with its 'explanation'. The main focus of this present book is to provide for the first time a translation of the text into English, and to suggest ways in which the symbolic sequence of this work can be explored.
This series has often been reproduced in modern books on alchemy, though no one seems to have attempted to interpret the work. The engravings contain many familiar alchemical figures, the green lion, the raven or black crow, the white swan, the ouroboros, suns and moons in abundance, but it is not easy to tease out an interpretation or find a clear path through the symbols. In writing his commentary on the Hermaphrodite Child of the Sun and Moon, Adam McLean has adopted the approach he has taken in his other commentaries to works with emblematic sequences in the Magnum Opus editions - he exposes the structures underlying the symbolism in the emblem sequence rather than rigorously analysing the text.
Mike Brenner has done us all a great service by undertaking this translation. Some of the language is rather challenging, and it is difficult to find the exact terms in modern English for some of the abstruse concepts in this eighteenth century alchemical work. This book also includes the original German text, so that people who know German can make their own alternative reading of passages.

Limited edition of 300 signed and numbered copies. 112 pages.


USA and Worldwide
Pay in US Dollars through
your Credit Card or Paypal system
Europe
Pay in Euros through
your Credit Card or Paypal system
UK
Pay in UK Pounds through
your Credit Card or Paypal system
$125
Price includes postage and packing.
€95
Price includes postage and packing.
£70
Price includes postage and packing.