HTML Scrolling Menu Css3Menu.com
Hermetic Studies series
No. 8. The Mystical Heart Emblems
of Paul Kaym and Nicolas Häublin
A coloured version by Adam McLean with a descriptive commentary.
---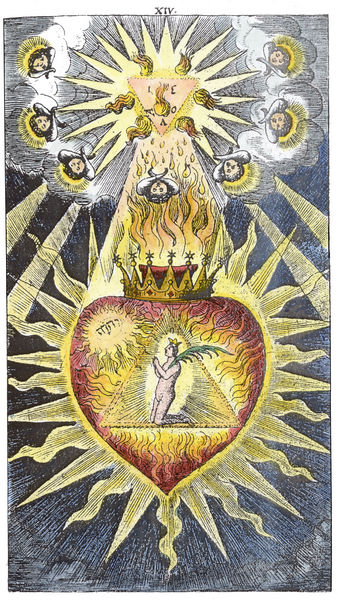 The book Helleleuchtender Hertzens-Spiegel was printed in 1680. The emblems were devised by Nicolaus Häublin, a minor artist and engraver and the text seems to be by Paul Kaym, who was a mystic and a close friend of Jacob Boehme. The work is a devotional compilation, exploring Man's relationship to God through the emblem of a heart. The text related to each emblem is divided into three sections. The first part summarises the ideas presented in the emblems. This is followed by Biblical quotations which serve to illuminate the emblematic imagery, and a third section in verse, probably written by Kaym. The author's intention seems to be to lead us as readers on a journey towards a spiritual closeness to the Divine through internalising this image of the transformed heart. The spirituality here is not so elevated and abstract as that presented in the works of Boehme, but a simpler, and perhaps more immediate pietistic work. The imagery of the emblems is rather engaging and charming, and illustrates in a simple way the message of the work. The book presents the shining light that is mirrored in the heart as it journeys from its earthly bonds towards the freedom of the spirit. Sadly this book was never well circulated and is now almost competely unknown. It would be good to have translated the text, but this was regrettably impossible financially. Instead Adam McLean coloured the rather dark engravings so that their symbolic components can be the more easily seen.

36 pages. 16 coloured illustrations. A5 hardback.
100 copies only signed and numbered.
USA and Worldwide
Pay in US Dollars through
your Credit Card or Paypal system
UK and Europe
Pay in UK Pounds through
your Credit Card or Paypal system
$66 + $10 postage
£40 + £3 postage